Felix Adler
Basic Information
Age:
17
Gender:
Male
Appearance: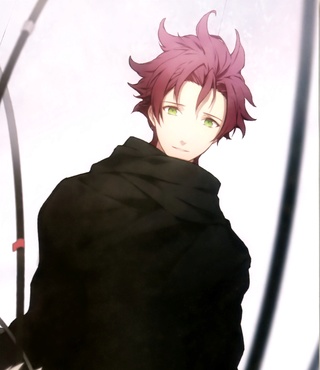 Standing half an inch shy of six feet, Felix cuts an awkward figure between man and boy. With a slender body devoid of any substantial muscle the young man could easily be mistaken for a woman. Of course, such a case of mistaken identity is only aided by the unruly shoulder length hair of the deepest maroon complementing his milky white complexion.
In fact, his feminine appearance is almost flawless until one looks at his face and finds it to be carefully chiseled. With sharp features and almost impish ears Felix always appears as if to be up to some type of unknown mischief. The only real soft part of his face comes in the form of the two bright green eyes burning with a sometimes dulled, but never dying fire.
And then there is fashion sense or, in Felix's case, lack thereof. Black, black and black; shoes, pants, cloak and shirt, everything. Despite his monochrome clothing the youngest Adler boy does not come off as sloppy. If anything he pulls it off surprisingly well always able to look quite dashing. The only remaining quirk in Felix's wardrobe is a small golden locket that the boy wears around his neck at all times.
Personality:
Quiet and shy Felix is a forgettable person; a face in the crowd; nobody. Extremely introverted one can't say he dislikes other people, but rather that he is scared of personal connections. As a result his circle of friends varies from one or two to none. With little to no social life Felix pours most of his time into his schoolwork adding hard work to his natural talent and quick mind.
Books and paper became Felix's greatest friends and closest confidants. Interestingly, however, the young man does not chose to flaunt his intellect and instead seems almost uninterested in class answering questions only when called on. All this said Felix can come to life in brief--emphasis on brief--flashes becoming quite talkative, but this only happens in regards to subjects that really pique his interests.
History:
The third of three sons born to Hans and Maria Adler, Felix's lot in life has always been that of second fiddle or third as the case may be. Life in Berlin was not a pleasant one for the boy growing up. He found himself dragged around to his various functions for his brothers. Violin recital here, cello there, magic demonstration. Felix was pushed into a corner by his own family and in effect became molded into an inverted shell of someone he might have been.
Then came school. School was perhaps the greatest thing to happen in Felix's life. A brilliant mind can only be contained for so long and classes gave him a outlet. Taking up the discipline of a medium he excelled in class. A quiet genius he aced tests with ease and quickly rose to the top of his class. Each exam was effortless to him, but he did not revel in his triumphs. Rather he simply continued to work; a thousand passed exams were never enough. He found himself searching for something more. Perhaps the incursion of evil on his school will be enough to find a purpose, if he can survive.
Class:
Medium
The Player
Other Characters:
Nah.
Contact info:
Skype ( Dante00737)



Posts

: 1


Join date

: 2016-08-25

Character sheet
Health:


(8/10)


Mana:


(10/10)


Sanity:


(10/10)



Admin




Posts

: 16


Join date

: 2016-08-23

Character sheet
Health:


(10/5)


Mana:


(10/4)


Sanity:


(10/1)





Similar topics
---
Permissions in this forum:
You
cannot
reply to topics in this forum